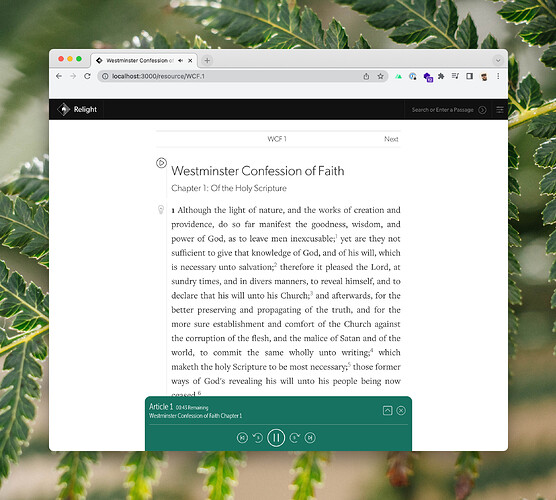 Okay, so this update kind of took me by surprise. I was playing around with the audio support in the Matter Read It Later app, when I thought, "What one man can do, another can do." (Still haven't seen the movie that is a quote from). So I started playing around with AI text-to-speech service options and found something I rather liked. Then I wanted to be able to listen to the Westminster Confession when I go on walks so much that I just decided to pause all the other Relight projects and build this.
Anyway, currently the feature only works in the Westminster Confession. You'll actually see the play button on other confessions (known issue #1 I guess) but, sad trombone, it won't work. The plan is to release audio for all of the Westminster Standards in this release and then to slowly roll out support for all the other Relight resources in the coming months (because while the service I'm using to generate this audio is not expensive, it's also not free).
Changelog
Added a play button to the Westminster Confession title area. This begins playback and begins an audio interface. More controls for things like speed and volume are available by tapping the up chevron icon.
That's basically it. Go try listening to the Westminster Confession.
Omnibar navigation might feel a little snappier.
Known Issues
'm planning to have the app scroll you down through the page as it reads out loud. This is not yet implemented, but will be before the first public release.
I do plan to likely add a scrubber so you can skip around in a given article. I'm not sure if I'll add it for this first public release release or not.

Update: I'm now planning to no release this. I suspect it won't be frequently used and the interface will be less cluttered if I don't add it. If users really miss it, I can add it, though.

I'm still working through whether the app should advance you to the next chapter, and whether it should navigate you there or not—and how that will work. I'm not sure if this will be completely worked out in the first public release or not.
Some elements of the player UI are not finalized.
I plan to let you play a specific article within the lightbulb icon for that article, but this isn't implemented yet (should be before public release, though).
Try the Beta